E-mail stubbing with the NetOrchestra® MA for Exchange
With the e-mail stubbing of the NetOrchestra MA for Exchange you create even more space on your Exchange server and in the existing mailboxes.
You can think of a "stub" as an e-mail freed from unnecessary ballast, which is linked to the complete original mail in the archive. If a user opens an e-mail that has been reduced in this way, the original e-mail is immediately loaded from the archiving location and restored in Outlook.
The purpose of stubbing is that the user can access all of his original e-mails at any time via his Outlook and that the Exchange Server no longer has to keep the entire amount of memory available.
A "stubbed" mail is much smaller in terms of storage capacity than the original and the e-mail is only completely restored in the Exchange Server if necessary.
Stubbing or shrinking is time-controlled. As the administrator, you determine the age at which a mail is shrunk in the Exchange Server and replaced by a "stub". In this way, new e-mails can still be kept completely in the Exchange for a certain period of time, depending on the available storage volume. Since only all attachments are removed during stubbing, which usually make up up to 80% of the memory requirement, in addition to the NetOrchestra MA mail search integrated in Outlook, the previous Outlook search for stubbed e-mails is still possible. A slimmed-down mail looks as usual to the user: subject, date, mail addresses and body are retained in the Outlook folders. However, the size is reduced to a few KB.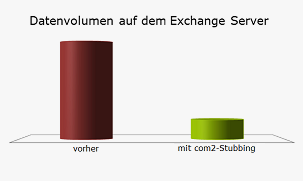 The benefits of the NetOrchestra MA stubbing solution
Restrictions in the Exchange Server such as backup runtimes that are too long or too low a number of mail users due to mailbox storage limits are eliminated. Existing mails remain visible in the folder structure, they just take up much less storage space.
Older emails that are no longer required in the mailboxes no longer take up unnecessary memory
Relief of the Exchange server by outsourcing large amounts of data to the e-mail archive
As a result, better utilization of the storage capacity of the mail server
Increase in the number of user mails when the mailbox storage is limited
Independent of the Outlook client used, also for OWA (Outlook Web Access)
Works according to criteria that you can set
No data loss, as stubbing only takes place after archiving has been completed and verified
Can be ideally combined with the NetOrchestra MA Outlook Web Access Integration
Treat your Exchange Server to a diet – with the NetOrchestra Email Archive for Exchange!